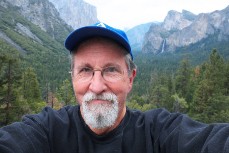 I've been taking pictures since I was a little kid, as you can see from the photo below (
Queen Elizabeth
in New York harbor—I was eleven). Many years and many cameras later, I'm still taking pictures, and I'm glad to be able to share them with you.
It's hard to believe that some of my negatives and slides are fifty years old, give or take.
As a teenager I started getting more serious about photography, and that's when I began to photograph two subjects that remain favorites to this day: motor sports
and
musicians
. The earliest images on this site are from race days at Lime Rock
Park in northwestern Connecticut, near where I grew up
. I also started photographing jazz musicians in concert, in New York and elsewhere; you'll see images from the Newport Jazz Festivals of 1966 and 1967, where I had a press pass that allowed me to shoot from directly below the stage.
Since moving to California in 1971, I've continued two activities that I brought with me: broadcasting and photography. I've been in
jazz radio for over four decades, most recently as the host of Just a Taste on KRML in
Carmel. And I've been a photographer for even longer.
Since photography became my main expression, I've expanded my subject matter to include birds and other wildlife, as well as scenes from travels throughout
California and
the continental US
. My wife and I have also been
to the Galápagos,
Costa Rica
, Cuba, and
Europe
.
Close to home, I have the many riches of the
Monterey
Bay
area,
San Francisco
and points north, and
Yosemite Valley
to the east. Needless to say, in all travels the camera comes along.
A while back I started a series of urban black and white photographs, many of which feature a kind of pentimento: faint, painted traces of a building's previous function. The series—which includes images from
Portland
,
San Francisco
,
Oakland
,
St. Louis
, and
Santa Cruz
—plays off of textures, contrasts, and juxtapositions to capture the intrinsic visual impact of the everyday.
For music photography I've been very fortunate to be near the Kuumbwa Jazz Center in Santa Cruz, the Bach Dancing & Dynamite Society in Half Moon Bay, as well as the Monterey Jazz Festival and events in Los Angeles.
Equipment? I bought my first digital camera in 2002, and a few years later I gave up film altogether. I'm a happy convert to the "digital darkroom" and all it can do, but not to worry, I still have those slides and negatives.
I've exhibited at the Santa Cruz Art League, the Santa Cruz Public Library,
the Kuumbwa Jazz Center
and
Stripe
in Santa Cruz
, and have taken part in the annual Open Studios Art Tour in Santa Cruz County. I'm very pleased to have my photography on two jazz CDs: the cover of
Biff Smith's
Solo Piano
and throughout
Scott Hamilton - Harry Allen - Live!
My work is represented on a number of web sites, and I have provided photographic services on several occasions to the Santa Cruz Public Library.
I hope you enjoy my photographs.